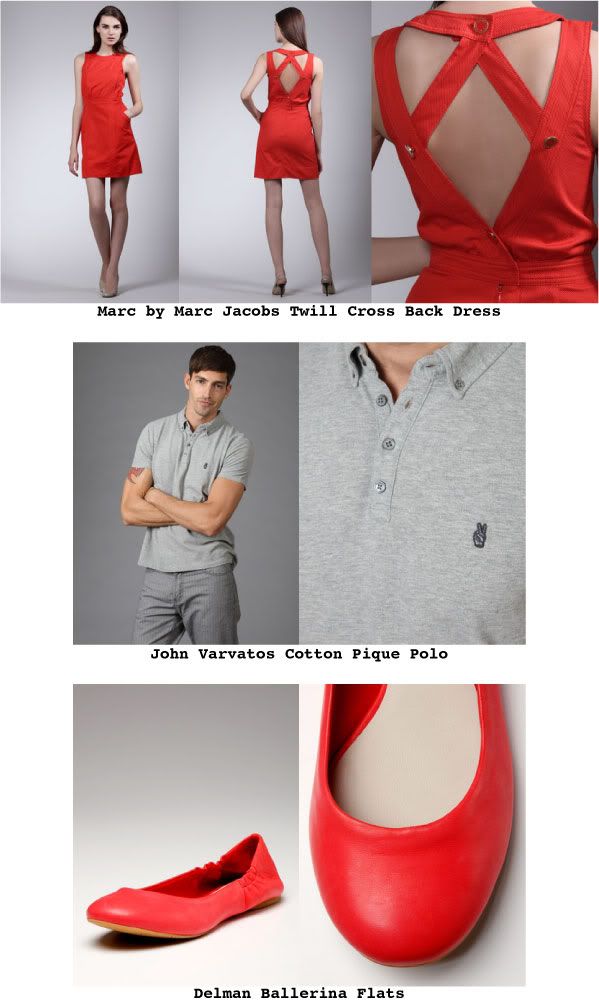 Quick recap on my
previous Gilt Groupe post
:
I was notified that I could return the complimentary shoes they had sent me when the wrong size was shipped. 
More credit was added towards a future purchase. 
I had the most amazing streak of good luck this afternoon when the return on the shoes was processed during today's sale. This is how if played out. 
11: 58 am
: Logged into my account. Shoe refund had yet to be processed. Had $158 to spend.
12:00 pm
: Bee-lined directly towards the MBMJ sale. 
12: 10 pm
: First purchase -  a gorgeous red MBMJ dress. It's prefect for work with a pale yellow cardi and can be dressed up and down. Love it! 
12:20 pm:
So much to buy today! Emailed Gilt to ask when my shoe refund would be processed. 
12:45 pm:
Shoe refund processed! Had another $120 to spend.
12:45 pm:
Second purchase - a John Varvatos polo for my beloved husband. (I would have liked the black long sleeved polo but someone was holding it in their cart. Darn!)
12:46 pm:
 Focused my attention on red leather Delman flats. Hit the refresh button every second to get the last pair of size 7's. Some odd minutes later, I got them!
(So long Tory Burch.)
12:51 pm:
Late returning to work from my lunch hour. Oh well. Contemplated my recent subconscious fascination with the color red as I drove to the office.
Luckily
Gilt
offers free shipping when you buy within the hour, so I only paid for shipping once though I made three separate purchases. Total purchased: $240 with a $10 credit still in my account. 
I cannot wait until they open their shop to Canadian customers!
::: Nathalie