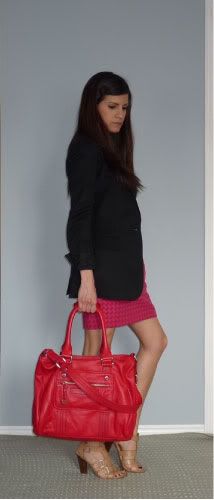 Boyfriend Blazer: Wilfred. Black tank: Target (not shown). Red and pink houndstooth skirt: Joe Fresh. Black leather belt: Gap (not shown). Leather sandals: Nine West. Red leather satchel: Marc by Marc Jacobs.
This afternoon, a coworker and I were chatting about her $1,500 Louis Vuitton bag. I told her how I toyed with the idea of buying the
Stephen Sprouse
version of her bag for a hair-line-fracture-of-a-second, but ultimately felt that at this stage of my life, I wouldn't be comfortable sporting a Louis V bag. I'd be petrified that people would take one look at me and think "Fake bag much?". (The reality is I can't fathom spending a months mortgage payment on a purse.) My 40-something year old coworker responded with "You could pull it off! You dress well, everything you wear is expensive!" (Thanks Marcia.)
While I have my fair share of (mainly discounted) designer pieces, I always mix designer with thrifty finds. My generation is a lot more creative with mixing price brackets and pulling off amazing looks. We do with what we have and we're darn good at it. After all, I had Marcia fooled with my $14 skirt.
::: Nathalie