Each season Club Monaco comes out with the latest trends of well tailored clothes in the hottest colors. The mannequins are always impeccably dressed and the window displays draw you right in. And yet, you'll never catch me shopping there. Here are my reasons from bad to worse.
The clothes are more expensive than they are actually worth
Even the sales aren't worth it. Just a month ago I was in the fitting room trying on a gorgeous black pencil skirt marked from $110 to $69. While the fit was perfect, the fabric contents where not - 90% cotton and 10% spandex. One wash and that skirt would never look the same. The cotton twill would be prone to wrinkling from sitting down. No thanks, I'll pass.
Terrible customer service
A few years ago I bought a top and changed my mind. It had been past the 30 day refund frame and so the manager issued me a store credit via gift card. A few months later, I wanted to make a purchase with this gift card. Guess what? It was empty! The store and head office weren't much help at all and my money was never to be seen.
Quality
I do have a few items from about 7 years that I still occasionally wear. A black knee length pleated skirt that looks just as great today as when I first bought it and a gorgeous seersucker blazer. Compare those articles of clothing to a white circle skirt I bought in the spring of '07. Due to the nature of the fabric, the skirt had begun to lightly tear at the seams before it's first wash. My dry cleaner even refused to take it in case the garment was damaged further in their custody. Frustrated and disappointed with the quality, I emailed the Club Monaco's customer service. No one ever responded. I sent the email again every few weeks until about the 6th email and finally gave up. They obviously didn't care.
Two weeks ago
The National Post's Style section
did a feature on 5 Must Have items for spring. Club Monaco's boyfriend blazer was number one on the list. I had purchased my Wilfred boyfriend blazer at
Aritzia
a week before.
I had to compare the two to see what this editor was gushing about.
Wilfred
's boyfriend blazer
, $225 CAD, consists of 85% wool, 10% silk and 5% cashmere. Quality fabrics that make this item a real investment piece.
VS.
Club Monaco
's boyfriend blazer
, $199 CAD - 100% cotton. It's a thinner cotton for a blazer meaning it would wrinkle easy. Certainly not worth the hefty price tag.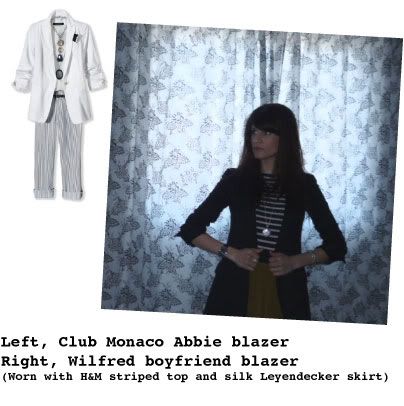 When it comes to investing in good quality pieces, be sure you look at fabric content, fit and cut. I feel that for a few years now, Club Monaco has lacked in the quality department making most of their items disposable in the long run.

Since coming onto the scene in the mid 80's, Club Monaco has undergone a lot of changes including the direction in management from creators Joe Mimran (Joe Fresh) and Alfred Sung over to Polo Ralph Lauren. I remember the Star having published an article about the take over and I was left wondering how it would affect the brand. Time would tell. The clothing became more sophisticated and the prices reflected this. (They also dropped the sporty CMX line). I feel that what Club Monaco offers in high style, they lack in care and that to me, is just as important in a brand. While you may see me perusing the latest styles at the Sherway Gardens store, it's very unlikely that I'll be making a purchase anytime soon.

-Nathalie

Follow my blog with bloglovin´